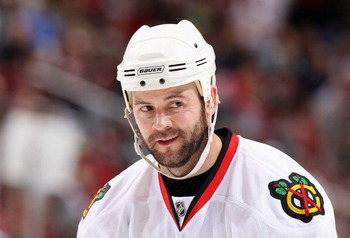 The Wild was unable to get power forward Mark Mancari on free agent Friday. That would have been huge as Mancari is one of the best players in the AHL when he is down.
The Wild went after him hard, but ultimately could not match the one-way deal offered by Vancouver for half a million bucks.
But with the departure of Patrick O'Sullivan (who has of Sunday afternoon, has yet to sign anywhere) the Aeros still needed someone to put the puck in the net.
Jim Mill found his guy Sunday, announcing that Jeff Taffe will join the organization on a one year, two-way contract.
Taffe was in the Blackhawks organization last year, and scored a career-high 30 goals for the Rockford IceHogs. He did not get much time in the NHL in 2010-11, but Taffe is a guy that can contribute "in the majors" when he is there.
In 175 career NHL games, Taffe has 21 goals, 23 assists and 40 PIMs.
More on this signing later ... I have a small story to tell about the time that Taffe ran over former Aeros goalie (and current Wild backup) Josh Harding.
That was a long time ago, and doesn't matter ... but it was a big deal at the time, and Harding missed a significant amount of time with an injury.